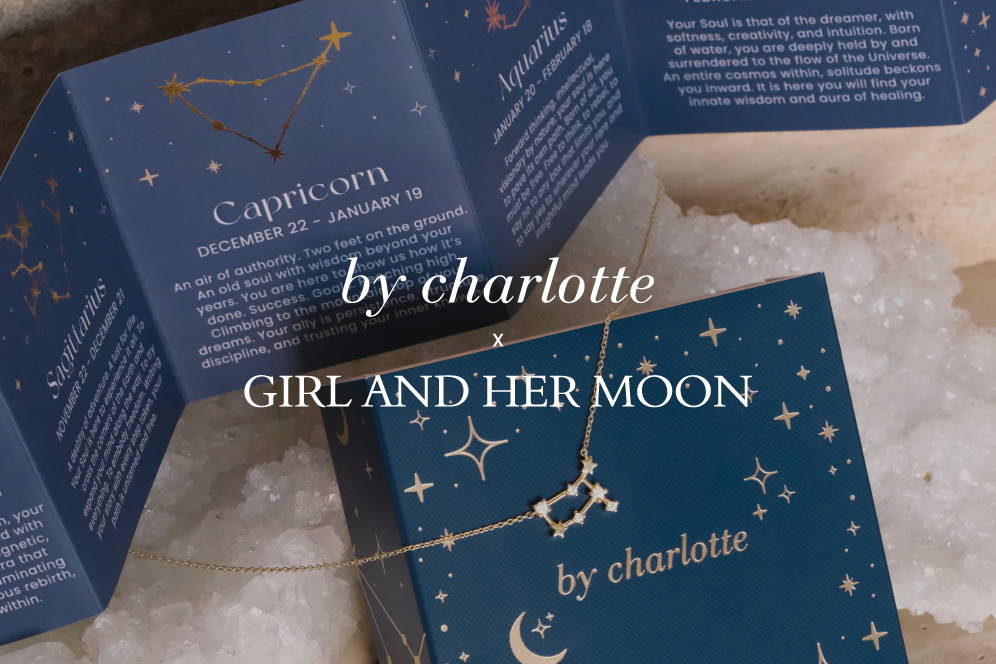 Meet Astrologer and Founder of Girl and Her Moon, Jordane Maree. An expert of the stars, we collaborated with Girl and Her Moon to bring some magic to our 14k Starry Night collection. Jordane personally wrote our Zodiac Guide, which is packaged with each of your Starry Night pieces and acts as a reminder of the gifts you were born to share with the Universe. We sat down with Jordane and learnt about her journey with Girl and Her Moon as she shares her cosmic wisdom with the world.


From Melbourne Australia, I founded Girl and Her Moon while living in my small city apartment with my beautiful soon-to-be husband. A one-person blog turned international soul-based company exploring inner work, astrology, tarot, and energy - my greatest joy right now is watching this brand grow beyond what I had ever envisioned for it.  
My first love is nature, which truly inspires every step, creation, and moment in my life.


I'm an Aries! My Aries Sun is something that I am deeply grateful for. When I think of my love of taking action, my passion for beginning things and watching as my inspirations and desires become real in the process, I credit my Aries nature.
Aries is the first of the zodiac, representing this fresh willingness to dive right into whatever path is calling its name. There is a pure excitement that comes with this energy. It's where desires are born and there is no shortage of new ideas. It's a zodiac that helps us get things going with an unquenchable thirst for action and movement. I know that my life will always be filled with passion, adventure, and new ideas, and I can thank my Aries Sun for this.


I connect with astrology as a mirror to my internal world, and a mirror to explore all the different shades, colours, aspects, and paths of all that I am as a person. There is a certain invitation that comes with each zodiac and planet – and when we are present enough, or interested enough, in watching the movements of astrology, we often see that there is a deep alignment with what we are internally and emotionally needing, and the movements of the cosmos.
Just like when the Moon is full, we often feel a sense of illumination and emotion – as if our emotions are communicating something to us. When it's in a particular sign that communication comes in a certain invitation. When it is in Leo it invites us to create and express boldly. When it is in Aries it invites us to passionately explore new beginnings that are calling our name, and so on.
Astrology helps us connect with our inner dialogue, giving the communication of our inner worlds a language to speak through. It's an invitation to go within and listen to ourselves and our desires, which I believe is the foundation of living a life we truly adore.


A yearning for connection, community and expression led me to begin Girl and Her Moon. What's beautiful about this beginning is that it wasn't intentional – I didn't realise I was creating a brand, or a business, company, etc, when beginning Girl and Her Moon – I just wanted to write and I wanted to connect with like-minded people. It all began with an Instagram page with no more than two seconds of thought to the name, which then very naturally turned into a blog and grew from there. Somehow, we are now a team of eight, reaching thousands of people every day from across the globe through astrology, tarot, energy work and more. It's been a true gift.


A centrepiece of Girl and Her Moon is to be a safe space to return within and cultivate a nurturing, loving, and healing relationship with yourself – and this is at the foundation of everything we do and every step we take.
Of course, I only want to expand this - through our monthly membership, astrology and tarot readings, energy healing and podcast. I truly believe that we are our own greatest healers, and when we have a nurturing space with a community that we feel safe with, true magic happens, deep healing begins, and a greater expression of our innate potential is experienced.




It's about having these small reminders of our magic and potential that can really support us in moments where we are doubting ourselves. Lean into the energy of your zodiac, explore how it is supporting you and the invitation that it holds, and then let your jewellery be a reminder of this every time you look at it.